Wales & West Utilities supports colleague volunteering efforts
Posted on: 01/06/2020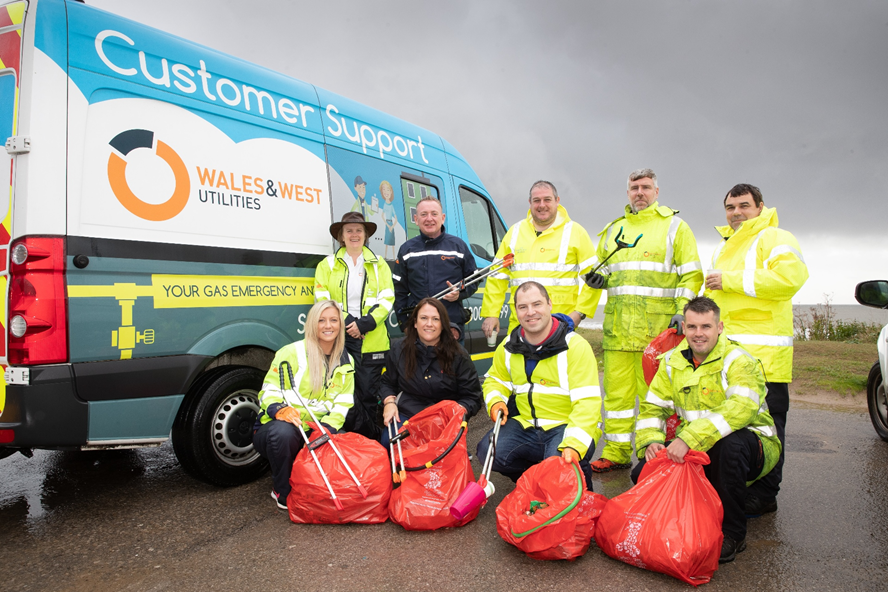 Wales & West Utilities volunteers clean up Porthcawl Beach, 2019 (before social distancing measures were introduced).
Wales & West Utilities is encouraging colleagues to give more of their time to help organisations and charities as they seek to recover from the Covid-19 pandemic.
The company is now offering its 1,600 colleagues the opportunity to donate two days of their normal working time from now until Christmas to help make a positive impact in their communities, supporting causes that are close to their hearts.
The announcement marks Volunteers' Week which takes place between 1 - 7 June every year. Due to the Covid-19 pandemic this year's events have taken a different form but many companies are still marking the occasion to celebrate and say thank you for the contribution millions of volunteers make across the UK.
Wales & West Utilities prides itself on supporting the communities it serves, and is a previous winner of Business in the Community Cymru's Responsible Business of the Year.
We're aware of the important role we have to play in communities across Wales and the south west of England during this crisis – not just delivering their energy. We've been prioritising those most in need, and our colleagues have been helping the national effort against Coronavirus in any way they can.
By giving our colleagues this opportunity to volunteer, we are hoping they can make a positive impact to many organisations and charities as they fight back from the impact coronavirus has had.
Wales & West Utilities supports its colleagues volunteer efforts through a sponsorship and match-funding programme. Last year colleagues donated more than 4,500 hours in time supporting local good causes, whilst £84,000 was donated to charities, through a mix of colleague fundraising and company match-funding and sponsorship.
Wales & West Utilities, the gas emergency and pipeline service, brings energy to 7.5m people across the south west of England and Wales. If anyone smells gas, thinks they have a gas leak, or suspects carbon monoxide poisoning, they should call us on 0800 111 999 and our engineers will be there to help, day or night.