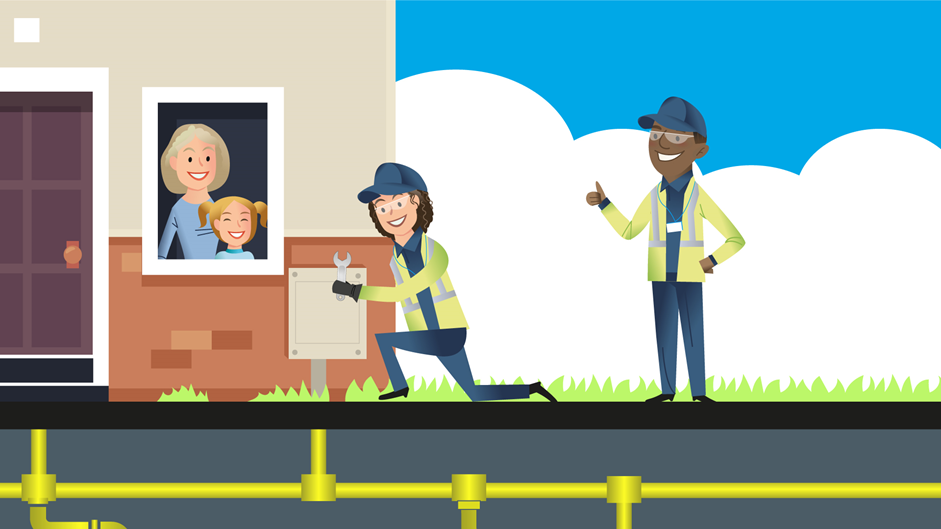 Help when you need it most
There's a range of ways we can help when you need it most. They include: 
Giving you alternative cooking and heating and keep warm packs on the rare occasions that your gas supply is interrupted (don't worry too much about this, on average it's once every 140 years without notice!)
Moving your gas meter if you can't access it. If you think you need this service, let us know by contacting our Customer Service Team. One of our team will then come and visit you to discuss it further. 
Our Hardship Fund from which we may be able to offer financial support if your home has been affected by our work. We review this on a case by case basis. Contact our Customer Service Team if you think this fund could help you. 
Locking Cooker Valves
These help people live safely and independently in their own home while giving their family or carers peace of mind.
They are suitable for customers who can no longer operate their gas cooker safely, such as people living with Alzheimer's or Dementia, who may be at risk of harming themselves and their home by leaving gas unignited or forgetting to turn the hob off.
When a Locking Cooker Valve is installed, the cooker can be used under supervision, and locked in the off position when the key holder leaves the house or room. This means that our priority customers can safely remain in their own home and maintain their independence, while their family or carer will have peace of mind that they will not come to harm when they are alone.
The valve only isolates the one appliance, which means the central heating system can still heat the home.
We can install a locking cooker valve free of charge (subject to survey) in agreement with the family or carer of a priority customer. They will need to be the responsible key holder.
We've partnered with the other UK gas distribution networks: Cadent, Northern Gas Networks and SGN to offer this free service nationwide. We provide this service regardless of your gas supplier. You don't need to change energy supplier or inform your supplier of the device.
To refer someone who might benefit from this free service, please complete the simple form below and we will be in touch to arrange a visit.
If we're not you gas network, you can find out who is here.