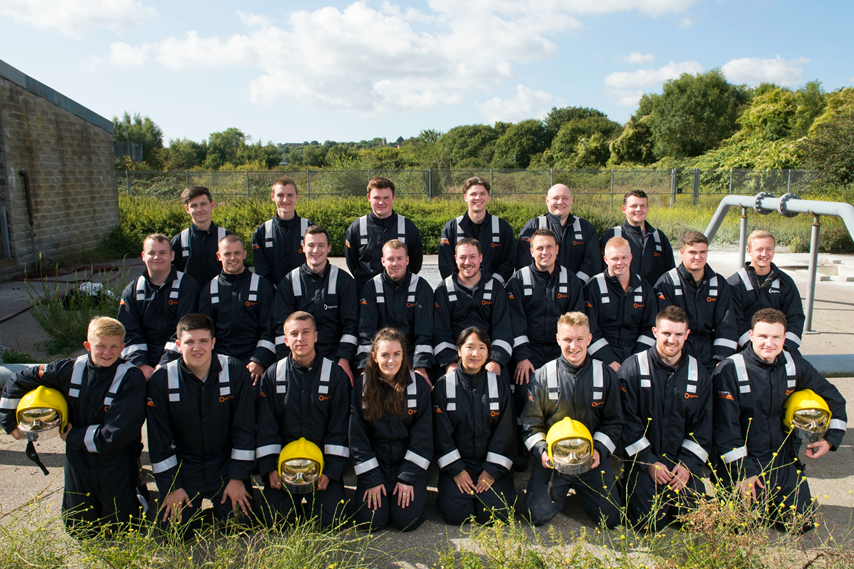 Do you have the energy to make a difference?
We're after superstars with the energy to make a difference, doing important engineering work that keeps 7.5m people are safe and warm. You'll need to be up for plenty of active outdoor work - whatever the weather.  
We've been running our award winning apprenticeship programme since we started operations in 2005 and have already recruited more than 160 apprentices from across Wales and the south west of England. Today, more than 10% of our operational team are former apprentices. Our apprenticeships offer adult learners age 16 and over an opportunity to earn while they learn in a real job, gaining a real qualification and a real future. The work we've done on preparing our business so it's ready to deliver for our customers today and long into the future is something that's very important to us and we're proud of the progress we've made so far. But there's always more to do. 
Our apprenticeships
Our apprenticeships give learners aged 16+ the chance to get paid to train in a proper job, gaining real qualifications and a solid career. Hiring apprentices helps build our business to meet the challenges of the future by developing a motivated, skilled and qualified team. The length of your apprenticeship depends on your role, but is usually 3 years. 
Training
You'll be training on-the-job, working across our network with our experienced engineers to learn job-specific skills. There's also some classroom-based learning at one of our purpose-built training academies in Treforest and Bridgewater, or at local colleges. Your training will vary depending on which apprenticeship route you follow, but some key areas are:
Health, Safety & Environment
Customer Service
Gas mains installation & replacement
Gas service laying
Gas repair & Maintenance
Electrical & mechanical engineering
Pressure management
Emergency & metering
Electrical & instrumentation
Using IT systems and mobile technology
Could it be you?
Could you be one of the lucky people to join our 800-strong Operational team, working hard to keep the gas flowing to homes and businesses and our 7.5 million customers safe and warm? You'll need to enjoy working outside, and although the gas industry is traditionally male dominated, if you go about things the right way, your gender is irrelevant. 
You will need to be happy to support our four company values
We put customers first. We build trust by giving excellent service, listening and taking action on what our customers tell us.
We work as a team. We build relationships with colleagues and partners, share best practice and encourage honest, open conversations.
We take pride. We take ownership and are accountable for our work, going above and beyond to get great results.
We bring energy. We approach all our work with enthusiasm, always challenging ourselves to do better by embracing new ideas and innovative solutions.
You can find out more about the way we do things here.
You'll be working a variety of shift patterns: including weekend and evening work, and be part of a 24/7/365 standby rota.
Opportunities
Applications for our 2018 Apprenticeship Scheme are now closed. If you've applied - keep an eye on this page and on your emails. 
What you can expect
Dates for your diary and what you can expect are below:
Stage 1 – Online application (9 to 27 April) [COMPLETE]
An opportunity for you to tell us a bit about yourself, and show how you would approach working with us in line with our company values.
Stage 1b – Online application (4 to 11 May) [COMPLETE]
Our second round of recruitment is open to those from south west England only. It's an opportunity for you to tell us a bit about yourself and show how you would approach working with us in line with our company values.
Stage 2 – Testing (week commencing 21 May)
If you are successful following the initial shortlisting process, you will be invited via email to complete an online psychometric test. You will be tested on mathematics, mechanical reasoning and spatial relations. This is designed to test your aptitude for the type of work we do and your approach to problem solving. The results of this assessment will determine our selection for invitation to the assessment centre.
Stage 3 – Assessment Centre - 25 & 26 June
Applicants who succeed in the online testing will be invited to attend a one day assessment centre. At the assessment centre, you will be required to take part in a number of exercises including an interview. You will need to be available on the dates above as unfortunately we do not have any alternative assessment dates.
The assessment centre will be held in Newport, South Wales so if you are invited, you will be required to travel to the centre. Accommodation will be considered for those who live beyond an hour and a half travel distance from the venue. Any additional expenses incurred may be reimbursed with proof of receipts.
Stage 4 – Selection (week commencing 2 July)
Successful applicants will be contacted after the assessment centre by email and receive a conditional offer of employment. Please note that all offers of employment will be subject to the receipt of satisfactory references, completion of a full medical examination and pre-employment testing for the use of drugs and alcohol. Feedback will be given to any unsuccessful applicant on request.
Stage 5 – Induction and Welcome aboard! (week commencing 27 August)
If you're successful you'll attend a full induction programme. This will give you the opportunity to learn about our company and the industry we work in, as well as introducing you to some of the key people you'll be working with throughout your apprentices. Former apprentices will be on hand to let you know what you can expect as a colleague at Wales & West Utilities and there will be a selection of team bonding activities for you to build relationships with the colleagues you'll be working with in your apprenticeship.