Our ambition at Wales & West Utilities
Our ambition is 'to deliver outstanding levels of gas safety, reliability and customer service so that we are trusted and valued by the millions of people we serve every day.' Whilst much of our gas network is underground and out of sight, our services play a central role in the daily lives of all our customers. Whether it's a safe and reliable gas supply for heating your home, making the family dinner or for a nice hot bath, we understand how important it is for our services to be there when our customers need them. Working with a range of stakeholders to develop sustainable, innovative and affordable energy, we believe our role is to contribute positively to the quality of life and wellbeing of our customers and communities we serve. That's why we work around the clock and invest around £2 million every week in our gas network, so we can continue to successfully deliver gas to homes and businesses, offering the very best service for our customers, both now and for generations to come.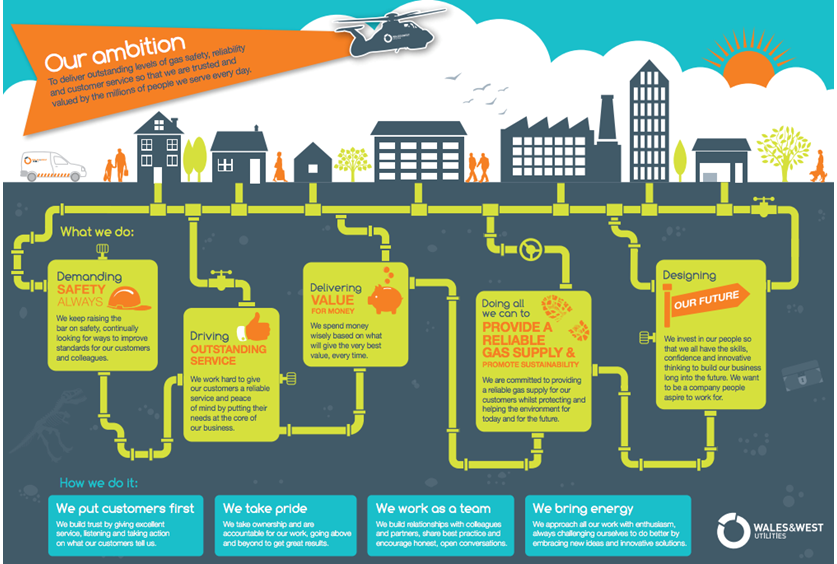 Our Priorities & Values
We work in a fast paced, challenging and ever-evolving industry. We understand that if we are to thrive as a business, we need to meet today's challenges, and get ready for tomorrow. That's why it is so important we work as one team on behalf of our customers – demanding the very best standards, every day. Our company priorities and values play a central role in helping us achieve just that; they guide our key business decisions and are reflected in our day-to-day work.
Our Priorities
Demanding safety always
We keep raising the bar on safety, continually looking for ways to improve standards for customers and colleagues.
Driving outstanding service
We work hard to give our customers a reliable service and peace of mind by putting their needs at the very heart of our business.
Delivering value for money
We spend money wisely based on what will give the very best value, every time.
Doing all we can to provide a reliable gas supply and promote sustainability
We are committed to providing a reliable gas supply for our customers whilst protecting and helping the environment for today and for the future.
Designing our future
We invest in our people so that we have the skills, confidence and innovative thinking to build our business long into the future. We want to be a company people aspire to work for.
Our values
We put customers first
We build trust by giving excellent service, listening and taking action on what our customers tell us.
We take pride
We take ownership and are accountable for our work, going above and beyond to get great results.
We work as a team
We build relationships with colleagues and partners, share best practice and encourage honest, open conversations.
We bring energy
We approach all our work with enthusiasm, always challenging ourselves to do better by embracing new ideas and innovative solutions.
Our Behaviours
The way we act in work plays a significant part in how we deliver our ambition and priorities. Our Behaviours support our values and apply to every colleague in Wales & West Utilities. We demand high standards of each other and expect everyone to behave in a respectful and responsible manner, in line with our Values. 
You can see more information about our Behaviours below or by clicking here.