Wrexham apprentice honoured in College awards
Posted on: 21/06/2018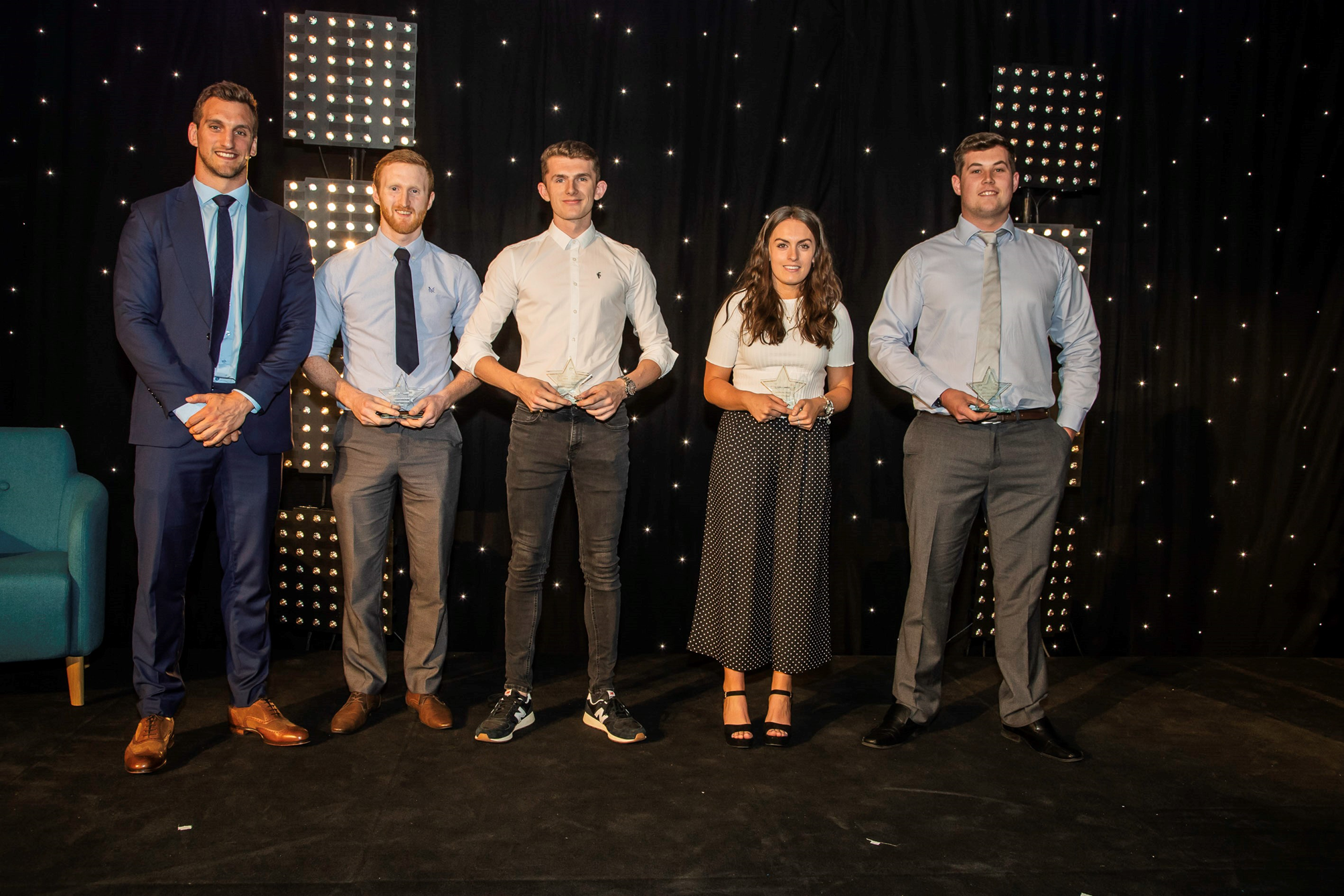 Myfina Goddard (second from right)
First year apprentice Myfina Goddard has been honoured in Coleg Cambria's Student Awards.
Wrexham's Myfina picked up the First Year Industrial Modern Apprentice of the Year Award in front of 400 guests who packed Deeside Athletics Centre and was one of more than 60 learners who received prizes.
The awards centred on categories ranging from work-based learning, services to people and land-based studies, to extra-curricular activities, creative industries and engineering and construction.
Myfina, 25 and who joined Wales & West Utilities highly coveted apprenticeship training programme in September last year, was presented with her award by former Wales and British Lions captain, Sam Warburton. She currently studies in college full time and in September will embark on her second year of the apprenticeship, where she will be working on the gas network four days and in college one day a week.
Picking up the award in front of the packed room, Myfina said:

"I am thrilled to pick up this award and am delighted that my teachers and tutor recognise my dedication to learning.
"The apprenticeship is hard work but certainly very rewarding. I have found the first year really interesting and can't wait to get into the day-to-day environment with Wales & West Utilities. I am looking forward to working alongside colleagues to help deliver outstanding service to our customers."
Myfina's tutor, Paul McLean, spoke of her award:
"Myfina has demonstrated how BTEC and Performing Engineering Operations courses should be approached and carried out. Her work is of an excellent standard and her practical application and underpinning knowledge is bordering on perfection.

"Myfina is proving to be an exemplary role model in her influence on the group."
Sarah Hopkins, Wales & West Utilities People and Engagement Director said:
"To be recognised so early on in her apprenticeship is fantastic and we are all very proud of Myfina. Apprentices are vital to our business and make sure that we can continue to keep communities across Wales and the south west of England safe and warm for generations to come."
This summer Wales & West Utilities want your views on the future of your gas network and the services they provide. Go to PipeUpOnline.co.uk to let them know what you think today and be in with a chance to win a £100 Amazon.co.uk Gift Card.