Helping power Tonyrefail pupils
Posted on: 20/06/2019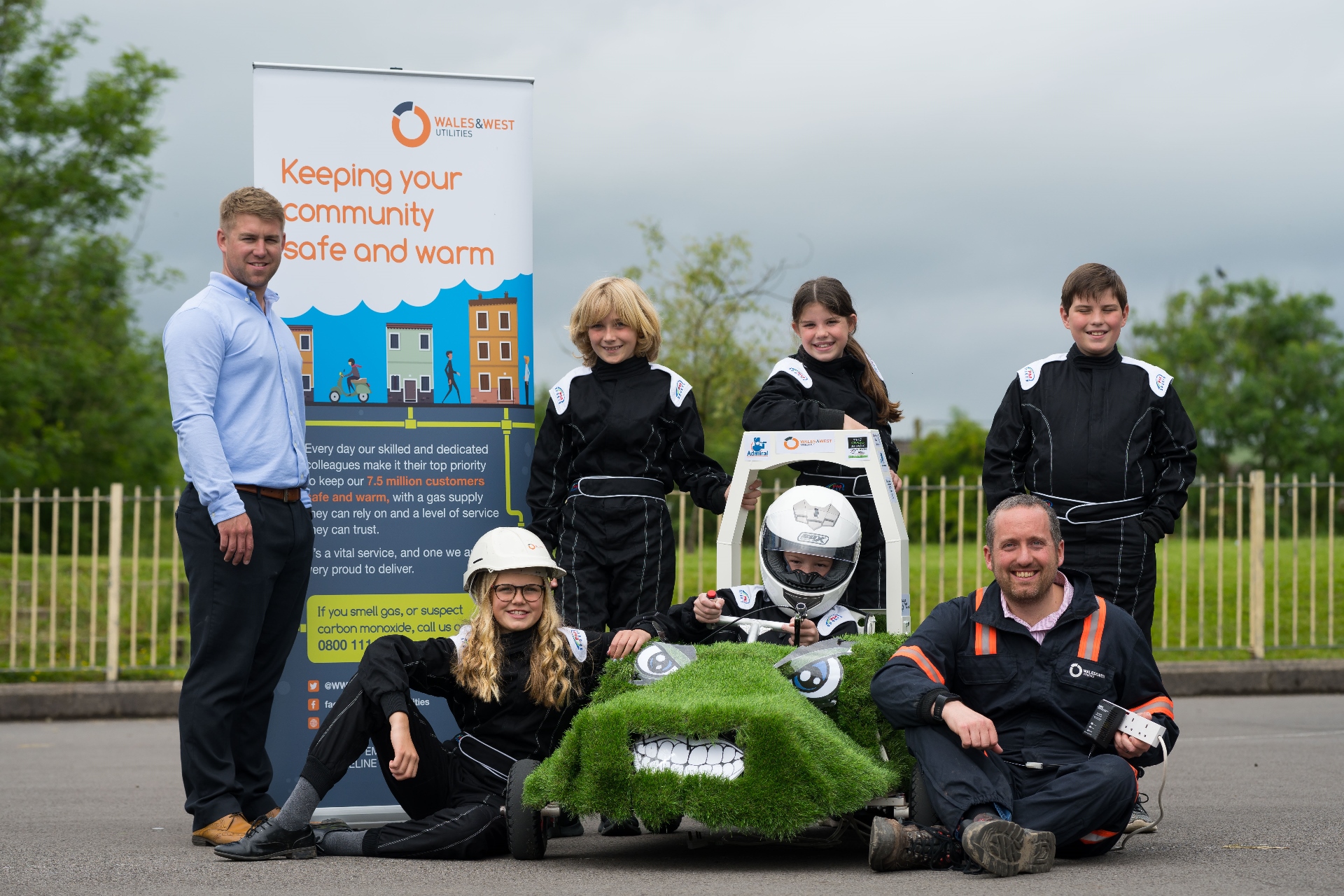 Cwmlai Primary pupils with Scott Curnell, STEM Coordinator and Key Stage 2 Teacher at Cwmlai Primary School and Wales & West Utilities' Oliver Lancaster 
Tonyrefail pupils have received a helping hand from Wales & West Utilities after the company has supported them in a science and engineering challenge.
The gas emergency and pipeline service has not only provided funding to enable Tonyrefail's Cwmlai Primary School to take part in the Greenpower Miskin Goblins event but also worked directly with the school to deliver practical sessions on green, renewable energy and gas safety.
The donation from Wales & West Utilities has allowed 48 pupils to work together over the past three months to design and build an electric car, which will be raced this weekend (22 June) at the Renishaw Miskin Goblins 2019 competition.
Scott Curnell, STEM Coordinator and Key Stage 2 Teacher at Cwmlai Primary School, said:

"The project has engaged pupils and has inspired them to rise to the challenge of designing, building and racing an electric car.
"We're thankful to Wales & West Utilities for its support - it's been great to integrate lessons about the future of energy into the practical side of the project.
"I am very proud of the boys and girls in the team who are well quipped to become the engineers of the future – all we need to do now is race and hope for a podium finish!"
Wales & West Utilities visited the school where pupils had the opportunity to learn about the energy system, whilst they also had practical advice to help them plan to charge their car to be the lowest carbon to meet their needs.
Wales & West Utilities Future of Energy Manager, Oliver Lancaster, said:
"We're proud to support Cwmlai Primary in this fantastic STEM project.
"With electric vehicles playing an increasing role in the transport sector, it's important for us to be involved in events like this one. Flexible power stations connected to the gas network are essential to support green energy and enable widespread use of electric vehicles.
"Through supporting renewable energy and decarbonising the gas grid we're playing a key role, not only in heating homes and powering businesses today but delivering a Net Zero carbon future.
"Pupils at the school had fantastic ideas and it was great to see their engineering minds in action. We'd like to wish them every success for this weekend's event."
The Renishaw Miskin Goblins 2019 competition is organised by Greenpower Education Trust - a UK based charity which gets young people enthusiastic about science and engineering by challenging them to design, build and race an electric car.
Wales & West Utilities, the gas emergency and pipeline service that serves the south west of England and Wales, puts customers at the heart of the business and is rated the top utility company in the UK for customer service. If anyone smells gas, thinks they have a gas leak, or suspects carbon monoxide poisoning, they should call us on 0800 111 999 and our engineers will be there to help, day or night. 
The company also has a multi-million pound, 30-year gas pipe investment programme which began in 2002. Old metal pipes within 30 metres of buildings are being upgraded to new long-lasting plastic pipes with a lifespan of more than 80 years, to make sure homes and businesses continue to receive a safe and reliable gas supply now and in the future.