Helping 'pave' the way for enhanced visitor experience at Cosmeston
Posted on: 08/06/2018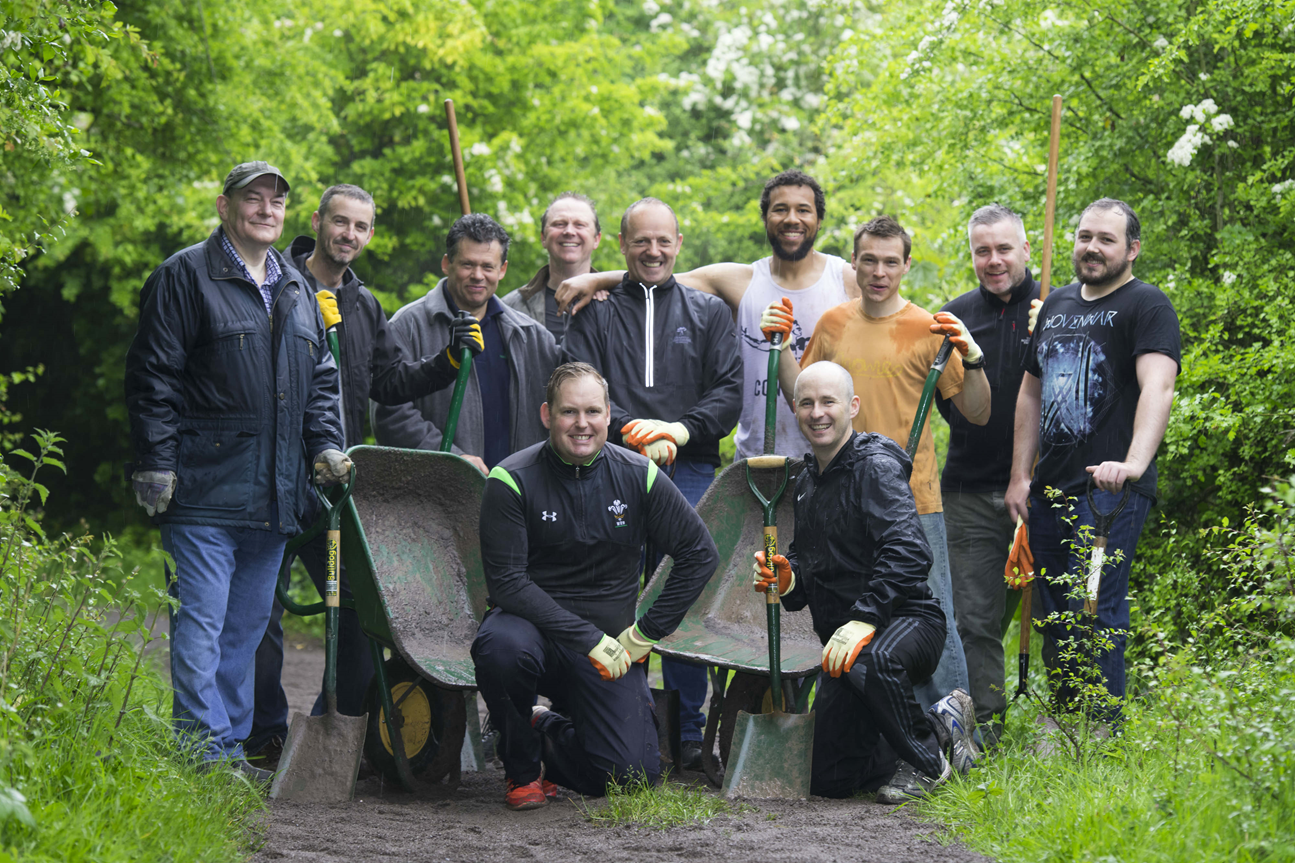 Ten colleagues from Wales & West Utilities rolled up their sleeves and spent the day shifting over 22 tonnes of material from Cosmeston Lakes County Park and Medieval Village as part of a project to improve the experience to visitors.
The team, who work at the company's headquarters in Newport's Celtic Springs, joined forces with Park Rangers, Business in the Community (BITC) Cymru and adults with learning difficulties to complete the environmental makeover. The event was run by BITC Cymru as part of its Action Day initiative.
Working in small groups, the team spent hours removing the large amount of stone dust and aggregate, before setting about resurfacing pathways around the 100-hectare site. Working alongside disabled participants, the team helped to pass on knowledge and increase the confidence of individuals, so that they can develop the necessary skills to help them lead an independent life.
Wales & West Utilities Head of IT, Craig Armstrong, was instrumental in leading the project and said:
"It's great to see members of the local community and organisations come together to get involved and help transform the park in such a small amount of time. Together we have accomplished a lot and the experience has been fantastic.   
"As a company we are committed to encouraging our colleagues to volunteer within their local community and this is just the sort of project where, together, we have made a real difference."
Wales & West Utilities has been working in partnership with BITC Cymru for a number of years and in 2016 was named Wales Responsible Large Business of the Year after being recognised for its commitment to responsible business and success in embedding responsible business practices throughout its operations.
BITC Cymru's Action Days celebrate the power and passion of employee volunteering and are sponsored by the Welsh Government.
Matt Appleby, Director of BITC Cymru added:
"Employee volunteering is one of the most powerful ways businesses can support communities across Wales. It can provide the resources to achieve otherwise unrealisable tasks for many organisations, improve physical spaces and allow in-kind savings. Taken together, Action Day projects like Wales & West Utilities' mean that more funds can be invested elsewhere.
"Employee volunteering is a win-win-win for businesses, employees and communities throughout Wales and it is fantastic to see one of our leading responsible employers, Wales & West Utilities, taking part in Action Days."
This summer Wales & West Utilities want your views on the future of your gas network and the services they provide. Go to PipeUpOnline.co.uk to let them know what you think today and be in with a chance to win a £100 Amazon.co.uk Gift Card.