Wales & West Utilities 'picks' Porthkerry Park for improvement works
Posted on: 16/05/2017
Ten colleagues from Wales & West Utilities have spent the day helping to improve the environment at Porthkerry Park for both visitors and wildlife.
Colleagues from the gas emergency and pipeline service spent the morning carrying out a beach litter pick, collecting 20 bags of rubbish, while in the afternoon they built four natural habitats for small animals across the park.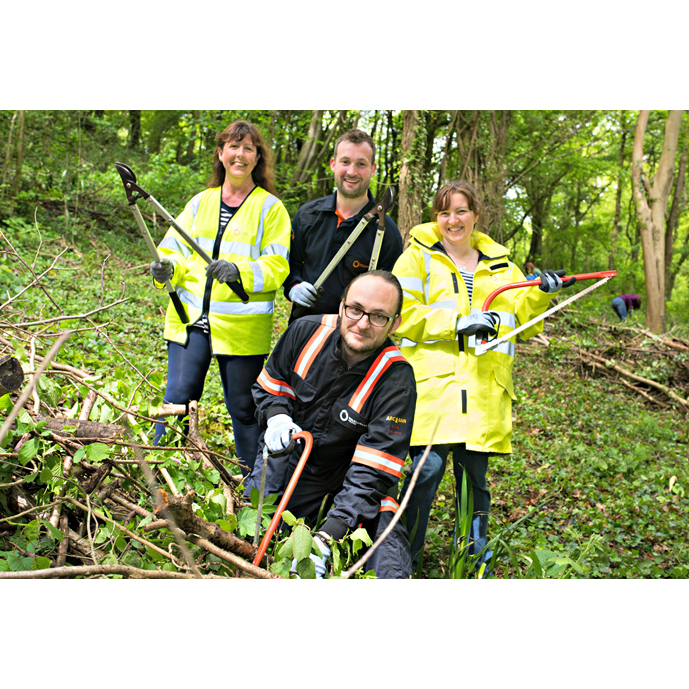 The project was part of Business in the Community's Give & Gain Day. Taking place on Friday 12 May, it is the UK's largest day of employee volunteering involving thousands of people taking the day off to volunteer in local community groups, schools, projects and charities.
Wales & West Utilities is the current Business in the Community (BITC) Wales Responsible Large Business of the Year after being recognised for its commitment to responsible business and success in embedding responsible business practices throughout its operations.
Wales & West Utilities People & Engagement Director, Sarah Hopkins said:
"We are delighted that our colleagues have played a part in helping to improve the environment surrounding Porthkerry Park. They accomplished a lot during the day and hope that the difference will be felt by those visiting.
"As a company we are committed to encouraging our colleagues to volunteer within their local community and this is just the sort of project where we feel we can certainly make a real difference."
Last year over 1,000 employee volunteers from 62 employers across Wales took part in Give and Gain Day, doing everything from revamping tired community centres to helping the long-term unemployed with interview techniques.
Matt Appleby, Director Business in the Community Cymru, said:
"Give & Gain Day is a fantastic opportunity for business, community organisations and schools to celebrate what can be achieved through the power of employee volunteers. Over the last two years, over 2,500 employee volunteers have taken part – a real demonstration of the positive role that businesses can play in building sustainable communities. At the heart of employee volunteering is mutual benefit – because when volunteers give, Welsh businesses and communities gain."
Wales & West Utilities, the gas emergency and pipeline service, takes pride in serving Wales and the south west of England. If anyone smells gas, thinks they have a gas leak, or suspects carbon monoxide poisoning, they should call us on 0800 111 999 and our engineers will be there to help, day or night. 
The company also has a multi-million pound, 30-year gas pipe investment programme which began in 2002. Old metal pipes within 30 metres of buildings are being replaced with new long-lasting plastic pipes with a lifespan of more than 80 years, to make sure homes and businesses continue to receive a safe and reliable gas supply now and in the future.