About our apprenticeships
Who we are and what we do
Every day at Wales & West Utilities, our team of more than 1,300 skilled and dedicated colleagues do their very best to keep our 7.5 million customers safe and warm, with gas connections and a gas supply they can rely on combined with a level of service they can trust.
We don't sell gas; instead we use our extensive pipeline to transport gas to homes and businesses throughout Wales and the south west of England. This involves maintaining and replacing our gas pipe network, connecting new properties and responding to customer gas emergencies.
We launched Wales & West Utilities in 2005, and since then we have worked hard to build our impressive and established reputation for delivering excellent customer service with safety, reliability and value for money at the heart of everything we do.
We are there for our customers 24 hours a day, 365 days a year – it's a vital service and one that we are extremely proud to deliver.
Where we work
We own and maintain more than 35,000 kilometres of gas pipes – enough to stretch from the UK to New Zealand and back again! Using those pipes – most of which lie hidden beneath your feet - we supply gas to around 2.5 million households and businesses, with a population of 7.5 million people. We cover an area that stretches from the mountains of North Wales to the cliff tops of Cornwall. The regions we serve are a mixture of cities, towns, villages and open countryside. Of course we're biased, but we think they're some of the most beautiful places in the world.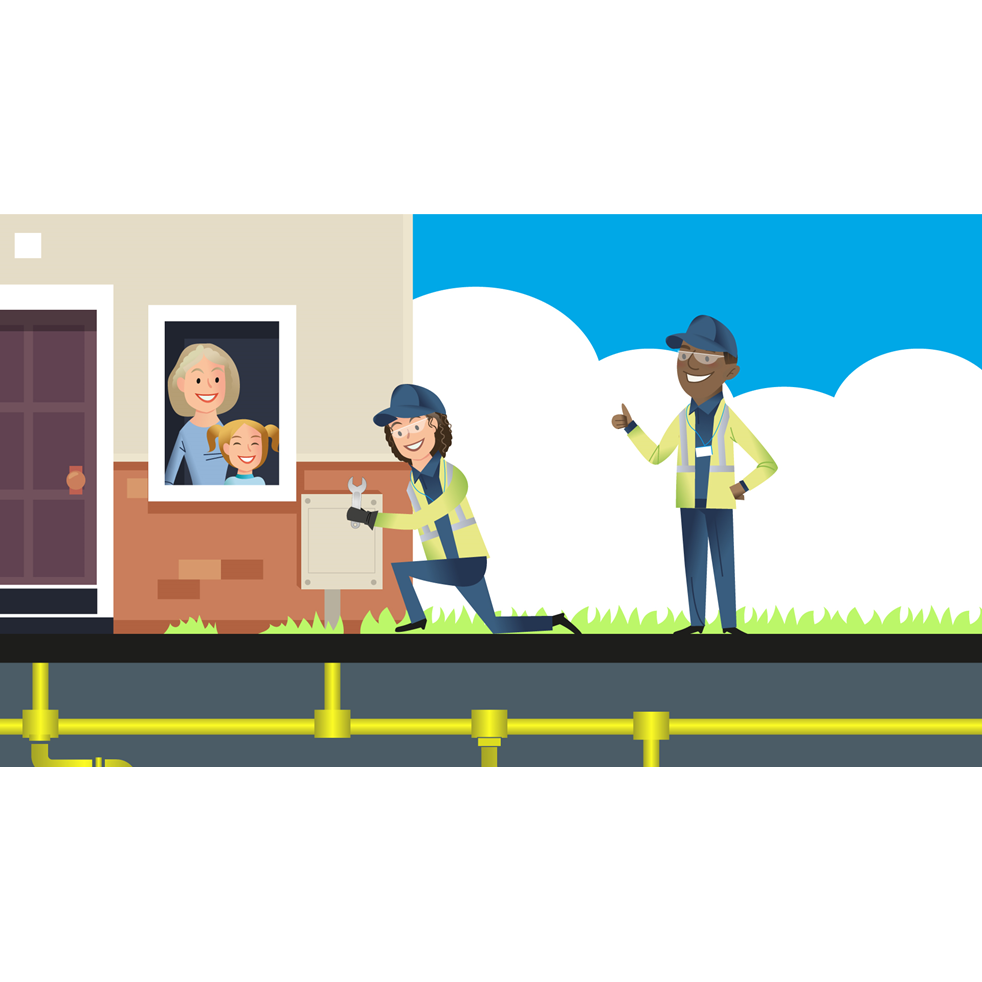 What can you expect from our apprenticeship?
Our apprenticeships offer adult learners age 16 and over an opportunity to earn while they learn in a real job, gaining a real qualification and a real future. Hiring apprentices helps build our business long into the future by developing a motivated, skilled and qualified workforce.
How long does the apprenticeship last?
The length of the apprenticeship at Wales & West Utilities is dependent on the job role, but can take anything between 2-4 years..
Training
Most of the training is on-the-job across our network, working with our experienced engineers to learn job specific skills in the workplace. Classroom based training is provided by our training provider and is delivered at either our purpose built training academies in Treforest and Bridgewater, or at local colleges.
Your training will vary depending on which apprenticeship route you follow, but some key areas are:
Health, Safety & Environment
Customer Service
Gas mains installation & replacement
Gas service laying
Gas repair & Maintenance
Electrical & mechanical engineering
Pressure management
Emergency & metering
Electrical & instrumentation
Using IT systems and mobile technology
Who are we looking for?
At Wales & West & Utilities our ambition is 'to deliver outstanding levels of gas safety, reliability and customer service'; and we are looking for people who want to make a difference in a business that services millions of people.
Applicants should like to actively work in an outdoor environment as part of their day to day work, and approach their work in line with our four company values which are:
We put customers first: We build trust by giving excellent service, listening and taking action on what our customers tell us
We work as a team: We build relationships with colleagues and partners, share best practice and encourage honest, open conversations
We take pride: We take ownership and are accountable for our work, going above and beyond to get great results.
We bring energy: We approach all our work with enthusiasm, always challenging ourselves to do better by embracing new ideas and innovative solutions.

Vacancies
Our Apprentice Recruitment for 2018 will begin shortly. Keep an eye on this website. 
What you can expect
Once you apply, we'll let you know what happens next - including an online psychometric test and an assessment centre. 
Pay & Benefits
Salary
Expected salary upon completion of your apprenticeship is £26,933. 
The annual pay progression is based on successful completion of all assessments and college work, and the approval of the apprentice review group. Variable pay elements (e.g. standby and overtime) may be payable when working with your full time team.
Pension
The Wales & West Utilities DC (Defined Contribution) Scheme gives you the opportunity to save whilst you are working to provide you with an income (also known as a retirement income) when you take your scheme benefits.
You can choose what contribution you pay, 2%, 3% or 4%, and we will double your contribution.
If your application is successful, you will be provided with more information on how to enroll into the scheme when you start working with us.
Annual Leave
Our apprentices are entitled to 25 days annual leave per year, to be taken in agreement with their line manager, plus all public bank holidays.
Flexible Benefits Scheme – 'Choices'
We have our very own online flexible benefits scheme which offers easy access to a range of specially negotiated products and services for our colleagues to choose from, should they wish to do so.
There's a range of lifestyle & leisure and health & wellbeing benefits available. You can save money on meals out with Restaurant Discount Cards, claim back your family's health expenses with the Healthcare Cash Plan, get fit with a discounted gym membership and much more